16 Best Decor Tips for a Killer Space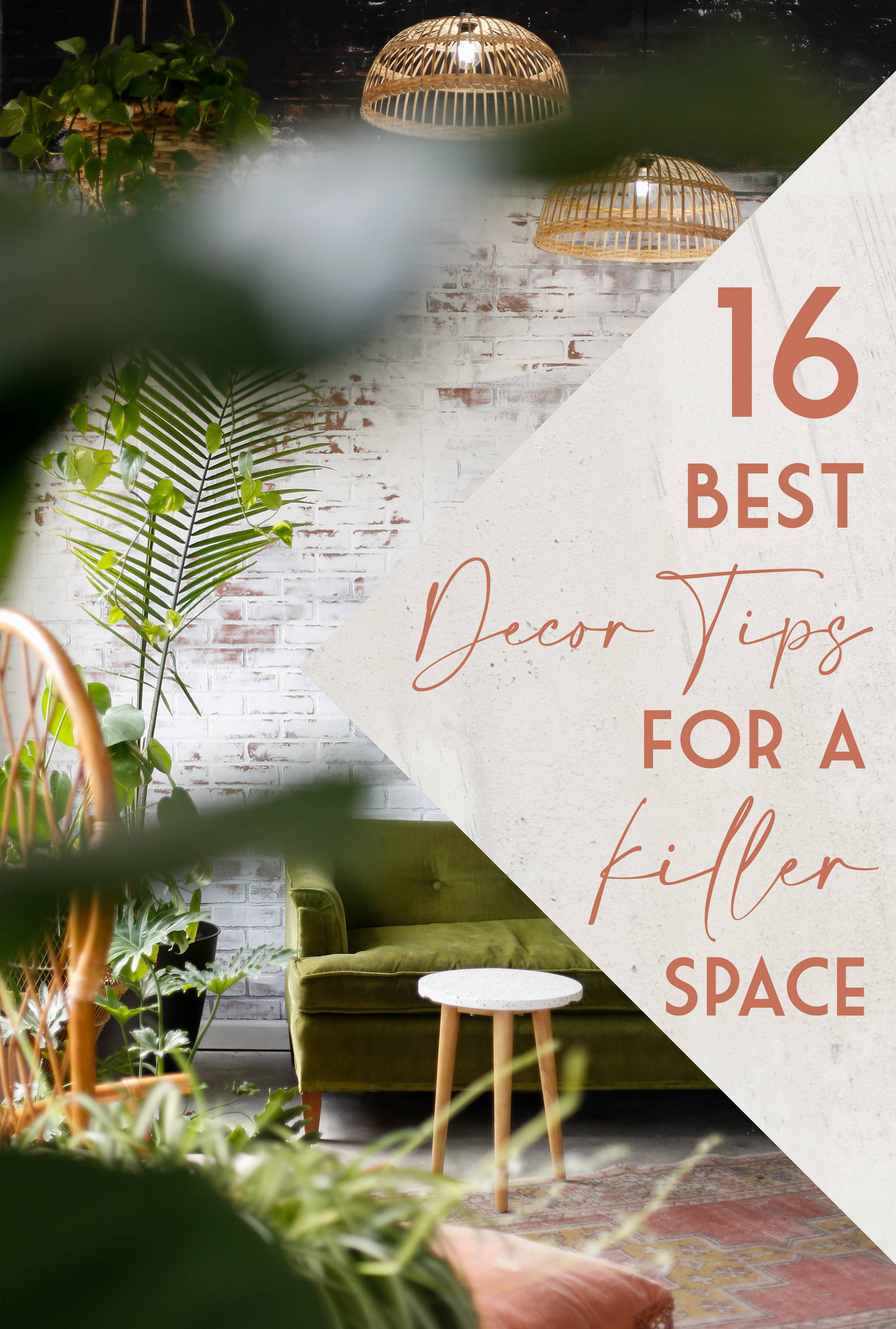 Tired of impractical decorating tips? I swear, half of the "advice" I see online is completely impractical or unaffordable for normal humans.
So... just for you, here are the 16 most USEFUL decorating tips I've used in my own home to create a killer space I'm proud of.

This step is easily forgotten... but it's the main thing. Don't just buy items willy nilly. The result will feel like clutter. Pick a theme/style for your space first, and start curating items that fit into that theme.
Time and time again I've skimped on the item I really wanted. I ended up so unhappy with the thing I actually purchased instead. Save a little longer to get that piece you truly want. You'll feel so much happier for it.
It seems scary at first, but one or two large pieces will take your space to a whole new level.
When you hang your art on the wall, make sure the center of your piece is at average eye level.
5. Use rugs to define separate spaces
This is key to creating two separate purposes in one larger room. A strategically placed rug can turn a big "rectangle" into an office + playroom.
6. Don't let your rug float
Ever been in a room with a floating rug? Just hanging... out. You couldn't figure out why, but it was weird. If a rug defines a space, furniture gives it purpose. Make sure to connect your furniture legs to your rug, even just a little.
7. Room to furniture ratio
A room stuffed with furniture will always feel smaller. You could simply remove a piece of furniture to make your space feel "better" or choose furniture that's physically smaller in size.
8. Reduce countertop clutter
At first you may argue here. But surely some of the things on your counter could find a home nearby. Cooking utensils could fit into a drawer. That tub of flour could slip into the cabinet. It will make your kitchen feel so much larger and more usable.
9. Place storage where clutter piles up
You KNOW you've got that spot where crap just piles up. Instead of fighting against how you use your home, place storage there. Embrace how you use your space and you'll feel happier.
10. (The 4 R's) Review + Retire + Reuse + Rehome
Step back and Review your space. With an editor's eye, collect the items you're not in love with (right now) and put them in a designated "Retire" box. You can Reuse those items later. And please don't throw the other stuff away! Just donate or Rehome anything that doesn't bring you joy anymore.
The vintage revival is here, sis. Liven up your space (and save your budget) by looking for vintage or second-hand pieces that fit your personality.
12. Incorporate plants and/or fresh flowers
It has a way of making your space feel fresh.
13. Mount curtains higher than your windows
Your room will feel larger if your curtain rod is closer to the ceiling.
Bigger mat board creates visual "space" on your wall. If your mat is at least 1.5 times as wide as your frame, you'll be good to go.
15. Reduce the number of tabletop "smalls"
It's SO easy to want to showcase everything you've ever collected. Instead, try editing out the things you don't care for as much (using the 4 R's above). Showcase your favorites in sets of 3 or 5 max. The same is even true for shelves. Don't cram them full. You'll thank yourself come dusting time.
In any visual composition, artists are often trained to let a design "breathe." The human eye needs white space so it knows where to focus.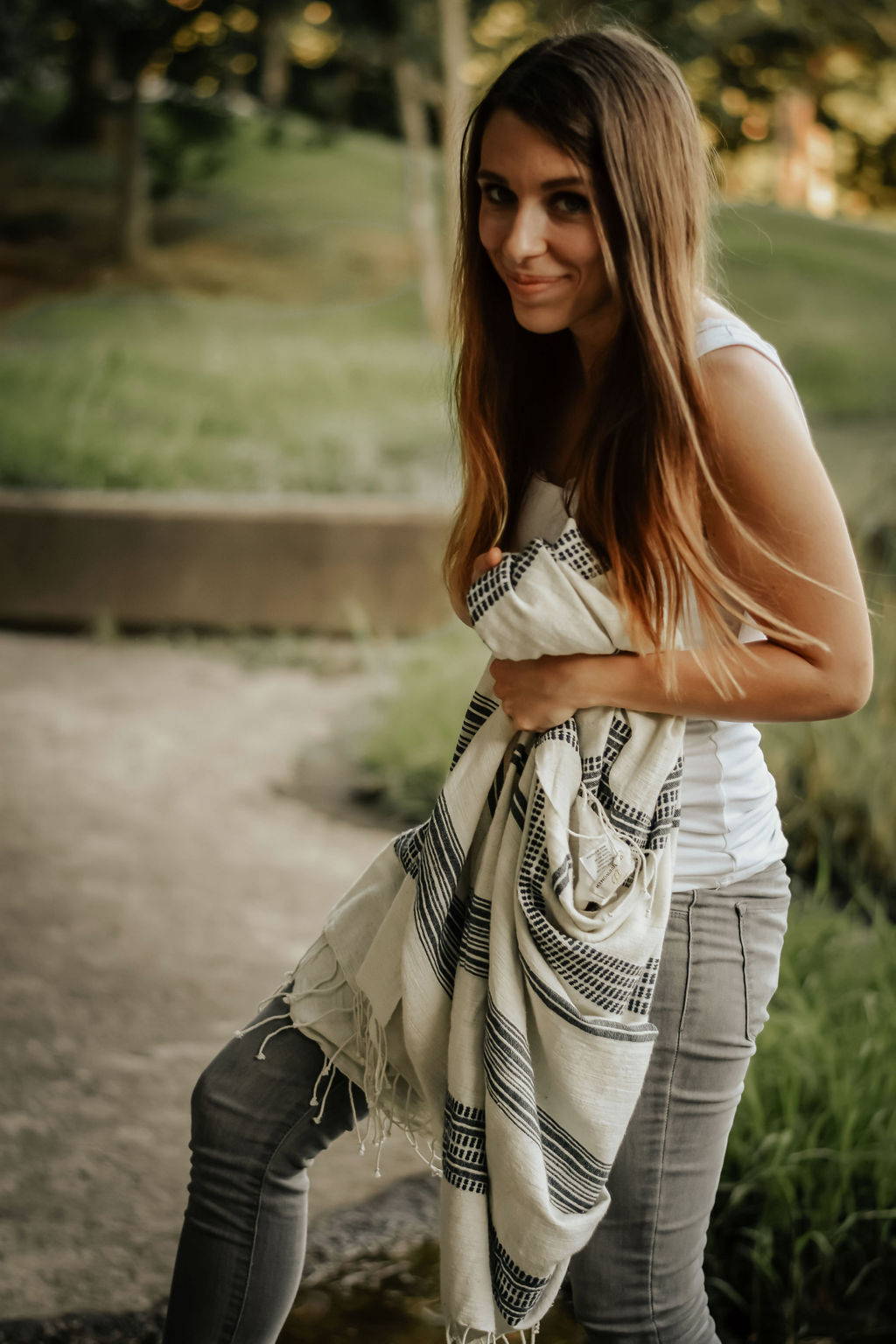 I'm an artist, boy mom and decor lover, always digging for the good stuff.
My obsession is getting advice, inspiration and ethical decor all in one place, so you can create a space you're freakin' proud of.